Yellow Bike program was conceived and realized by the UI's Rector, Prof. Dr. der Soz Gumilar Sumantri in July 2008. The yellow bike program is a real commitment from the UI in realizing the Green Campus program. Programs that initially cooperated with B2W and Polygon make the UI as a university that has a bicycle first campus in Indonesia. Yellow bike is designed with "single seat" specifically for UI.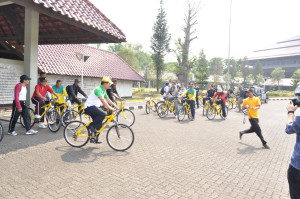 At the beginning, this program provides 200 bikes with 11 bicycle shelters. In January 2010, it is increased to 400 bikes and 17 shelters. This bike's facility will continue to be added as the existing development. The seventeenth shelters are located in PAU, Library Center, Faculty of Humanities, UI Mosque, Faculty of Social and Political Science, Faculty of Economic and Business, Faculty of Engineering, Centre of Students' Activities (Pusgiwa), Faculty of Mathematic, Faculty of Public Health, Pondok Cina Area, Station UI, Dormitory, Wiramakara, PAU Lake, and the Convention Center.
Terms of Use: Student Card, lecturer, Staff UI is still valid.
How to use:
Show Student Card, lecturer, employees which still valid to the officer.
Bicycle used only on the track has been provided.
Bicycle is prohibited to use outside the track or outside the campus area.
Bicycle is forbidden into the territory of Forest City in the UI's and the bike certainly is not designed for "off road".
Bicycles for one rider, there are storage bag and max capacity of 10 kg and not recommended for passengers.
During the bicycle has not been returned to the officer, then bike is the sole responsibility of the borrower.
Bicycle can be returned to the nearest shelter.
Date and Hour: Monday to Friday from 7.30 am until 5pm.
Things that should be considered in cycling:
After receiving a bicycle from the shelter:
Make sure the bike is in good condition and all is functioning.
Place the book / bag in the space provided, even if it is shoulder bag then make sure nothing will fall during cycling.
Set the seat according to your height
Make sure both hands holding the handlebar of bike.
The Bike is a bicycle with 6 shifters, Shifter 1 is for flat track and downhill, hereinafter shifter 3 is medium and shifter 6 is for uphill road.
Use the bike on the provided track
Use the left side when cross paths with other cyclists from the opposite direction.
Do not run more than 2 bicycles lined.
if there is any damage and disruption over the borrowing, please report to the officers or call the emergency phone for bike.
Give the priority to the pedestrian.
Pay attention to the other vehicle when acrossing the public road
Safety first.