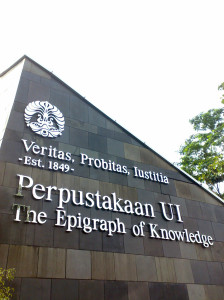 The Central Library of the University of Indonesia is an integrated system that offers comprehensive access between faculties and disciplines. Central library is important departments in the central administration of the university where the libraries collaborate in the areas of digital collections, information technology, preservation and high-density storage.
To facilitate the coordination and communication, Central Library is a fusion of all faculty libraries. The services include integrated services for all UI students. In 2007, the collection of UI's Central Library reached 1.5 million books. The collection is a comprehensive collection when considering the number of archives and documentation. The collection of UI's Central Library is one of the largest in the Asia.
With the support of information systems based on information technology that is digital library online information system so visitors can directly search and download collections available such as: Books, Magazines, Non Books, Electronic Article, Electronic Book and work by entire academic community in the collection of the University of Indonesia.
link: www.lib.ui.ac.id