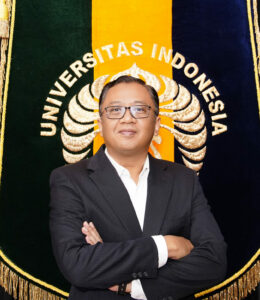 Padang Wicaksono is an associate professor of economics at Department of Economics, University of Indonesia. Currently, he serves as Director of the Vocational Education Program Universitas Indonesia for the 2022 – 2026 period.
During fall semester 2012 he has been with the Graduate School for International Development and Cooperation, Hiroshima University as Visiting Associate Professor for three months. In addition, during September-October 2013, he joined Executive Education Program at Harvard Kennedy School of Government- Indonesia Program as a facilitator.
His research spans labor economics, industrial relations, population economics, and development economics. He received BA at University of Indonesia in Economics, and PhD at The University of Tokyo in Labor Economics.
Publications:
2022, Tingkat Pengembalian Investasi Pendidikan Tinggi Lulusan Program Studi STEM (Science, Technology, Engineering, dan Mathematics), Jurnal Samudra Ekonomi Dan Bisnis, Vol. 13, No. 1
2019, Global Production Networks and Social Well-Being: Evidence from the Indonesian Automobile Industry, International Journal of Business and Society, Vol. 20
2019, Economic and Social Development in Global Production Networks: Lessons from the Indonesian Footwear Industry, International Journal of Business and Society, Vol. 20
2018, Does Manufacturing Sophistication Lead to Higher Demand for Vocational Workers? Evidence from Indonesia, Economics and Finance in Indonesia, Vol. 64, No. 1
2016, Decent work in global production network: lessons learnt from the Indonesian automotive sector, Journal of Southeast Asian Economies (JSEAE), Vol. 33, No. 1
| | |
| --- | --- |
| Office address | Building A, Room A101, UI Vocational Education Program, UI Depok Campus, West Java 16424 |
| Telephone | (62)21- 290-274 -81, -82, -83 |
| Fax | (62)21- 290-274 -78 |
| E-mail | pimpinan@vokasi.ui.ac.id |